Select Homes Team Keller Williams Realty Capital District 
"Opening Doors To Your New Home"
"Best New Construction Real Estate Team"
HOME PRICES
Median home price increased slightly in February to $189,000, up just 0.6% from the previous month. Prices remain significantly above those seen at this time last year with February posting a 9% year-over-year gain, and many sellers continue to benefit from equity gains accrued in last year?s substantial price recovery.

HOME SALES
The pace of home sales remained essentially unchanged from January to February with NAR reporting an annual pace of 4.6 million homes. Sales were down 0.4% month to month and down 7.1% from the same month last year. Winter weather likely played a role in the slow pace of home sales in February, particularly in the northeast and Midwest regions of the country; however, some of the drop-off in home sales is likely attributable to a decrease in the number of distressed sales occurring around the country. NAR reported that 16% of home sales in February were distressed, down from 25% in the same month of last year. As we move out of the winter months, and lenders and consumers adjust to the changes in affordability and regulation, we should see sales begin to pick back up.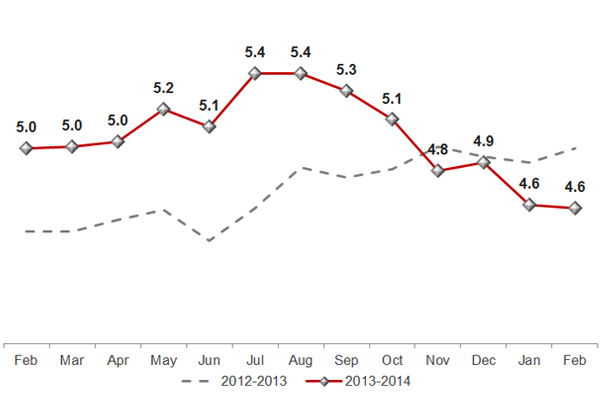 INVENTORY – MONTH'S SUPPLY
Inventory levels picked up once again with 2 million available for purchase, up 5% from last year. This represents 5.2 months of inventory at the current sales pace, which is up 13% from last year and up 6% from the previous month. As we move further into the year, we should continue to see inventory loosen, giving buyers more choices and putting less upward pressure on prices.
It's important to note that in a seller's market, what's online right now may not be there tomorrow. In fact, the information on many listings may be out of date the instant they're posted. That's where the Select Homes Team Keller Williams Realty Capital District  come in. We can get updates and information as it's happening- before it shows up on the web. And in a seller's market, getting info a few hours ahead of time could make the difference between finding your dream home and missing out on a great deal.
Contact the Select Homes Team at Keller Williams Capital District
Tim Mulchy – 518-857-7653
Danielle Enos – 518-312-3452
SelectHomesTeam.com